Toys are Tools has reviewed eeBoo's Felt Mosaic activity. The game inspires kids to work with their hands while arranging brightly colored felt pieces to match a given geometric design. Felt Mosaic won the Oppenheim Best Toy Gold Seal Award.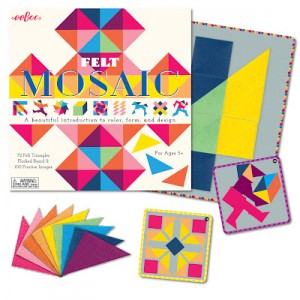 Felt Mosaic teaches a basic sense of design, along with geometry. Toys are Tools interviewed an educator at top museums such as the MoMA, who wrote that "skills were definitely being worked on here." The kit comes with 72 practice pieces, all made out of thick, high-quality felt. The pieces are each triangular and encourage problem-solving while thinking about the best way to arrange them to match the design.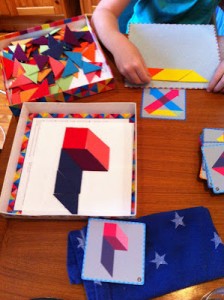 Photo Credit for Toys are Tools
The skills learned here can be carried out in future creative play. Toys are Tools writes, "if they want to draw a house, then they know that  they can use a triangle for the roof and a rectangle for the chimney." Learning basic concepts, such as 2 triangles put together can make a square, teaches early understanding of fractions and mathematical comprehension.
The activity itself is beautiful and fun to work with. The board is flocked, which prevents accidently moving the pieces. The felt is bright, soft, and gives kids a new material to work with that is stimulates the imagination through visual and tactile experience.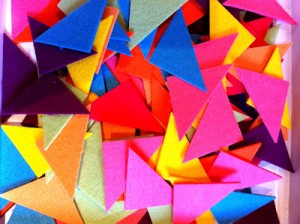 Photo Credit for Toys are Tools
Felt Mosaic retails for $18.00. Toys are Tools enthuses, "It doesn't cost much but when you touch it, you feel like you have something precious in your hands."
Toys are Tools is currently doing a giveaway. Click here to participate.