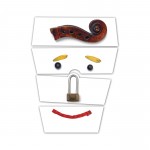 One of eeBoo's newest activities, About Face includes 160 Object Images arranged to look like hair, eyes, a nose, or a mouth. Time Out to Play notes that About Face uses "kids imagination to transform an item into something else it resembles." When pieced together, children discover hundreds of possibilities for creating faces. Objects range from leaves to paper clips, light bulbs, and sea shells. Each combination of objects can reflect a different personality, and children get to see how simply changing the mouth may affect whether their Face looks happy, sad, or even surprised.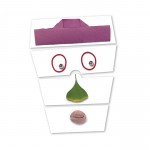 About Face can be played any way a child desires, but also provides helpful instructions to inspire combinations. Suggestions included are choosing only objects that are red, objects found near the shore, or only objects with smooth surfaces. When following these instructions, children sharpen their memory and recognition skills. Time Out To Play awarded About Face 5 stars for assembly and instructions.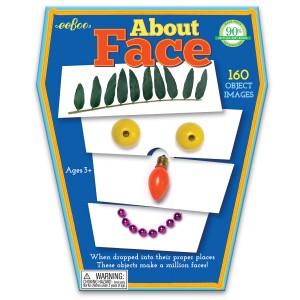 About Face is made from 90-percent recycled greyboard and soy-based inks. The activity includes 70 cardboard 2.25″ x 2.25″ strips in total, each double sided. About Face is for children 3 and up, and retails for $15.00.
You can read the full review here.