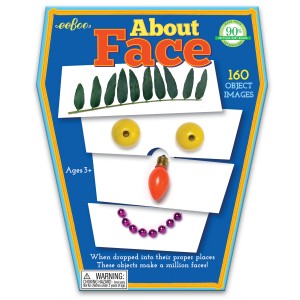 "In this fun game, kids create an endless cast of characters as leaves, ribbons, coins, seashells, paper clips and a variety of found objects combine to make millions of faces. 160 object images. Made from 90% recycled materials." – TDMonthly
Not only has About Face become a Best Seller, but it has also won the Oppenheim Best Toy Award (sticker included) and the Oppenheim Snap Award. About Face features four tiles with images of found objects that resemble facial parts, such as hair, eyes, a nose and mouth. As kids flip over and rearrange the tiles, they are presented with an infinite number of educational benefits. While it teaches out of the box visual thinking and inspires a sense of design, it also teaches facial expression recognition. About Face can be used to teach color identification when asking kids to pick only objects that are red. It can be used to help expand a growing vocabulary as parents point out the name of each object.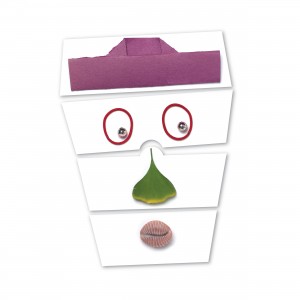 About Face is for ages 3+, and retails for $14.99. You can read the full review here.