Feel the love!  Use as a card, tag, or ornament to show your valentine spirit!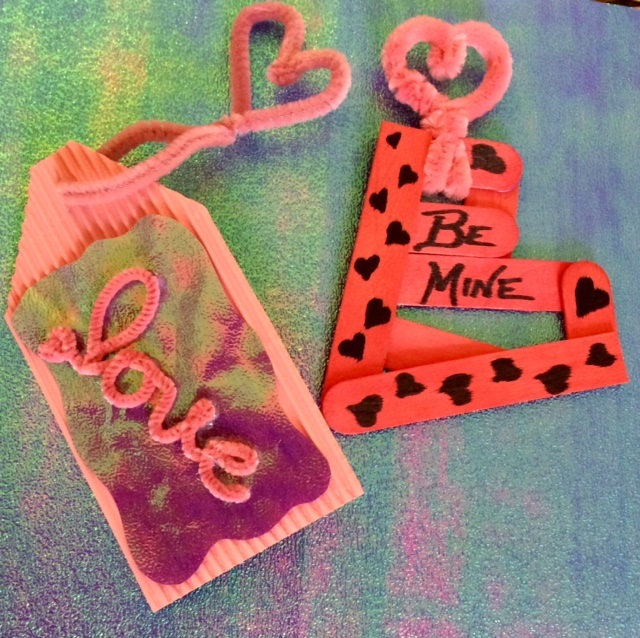 What you will need:
Fancy papers iridescent and corrugated
Pipe cleaners
Pop sticks
Scissors
(shop eeBoo's craft line here)
Marker
Hot glue gun
Directions:

Pop stick heart tag
Begin by connecting two pop sticks in a V shape & affix the connecting parts with glue.
Next cut your pop sticks in thirds and glue four connecting pieces to make heart shaped top.
Fill in center with remaining pieces until you are satisfied with heart design.
Use marker to make designs or placing wording on your heart tag.
Last, wrap a pipe cleaner around one of the edges and it is ready to top any love filled gift!
Fancy paper tag
Cut out a tag shape from your corrugated fancy paper, and use this as a guide when cutting your wavy iridescent insert.
Make a small hole at the top of your tag, and insert a fluffy pipe cleaner for the tie.
Take a thin pipe cleaner and shape it into a word- I shaped love which is simple, but you could make a name for the tag which is equally sweet! If you make a mistake, it is easy to go back and untwist.
Tip: make a twist after each letter to anchor and keep it from in winding.
Hot glue iridescent paper to corrugated, then hot glue a few points of your pipe cleaner word onto the iridescent paper.
Clean up any unfinished edges with scissors and remove any hot glue strings.