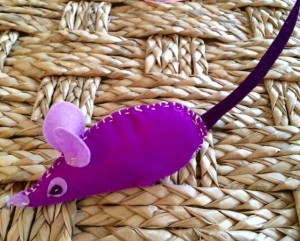 What you will need:
- One pack of Felt sheets
We used our Pansy Felt Sheet Pack  (three different colors – dark, medium, light)
-Cotton balls
-Pebbles
-Scissors
-Embroidery thread
-Needle
 Directions:
 Cut shapes out of your felt
Dark color: cut a long curved strip and two small teardrop shapes
Medium color: Cut heart shape (about 1/3 the size of full sheet)
Light color: Cut small heart, two medium teardrop shapes, and two circle shapes
 Begin sewing on the pieces of your mouse.
 First, stack your tear drop shapes, two stacks, dark color on bottom. Sew each one on either side of the bottom of your large heart shape. To make sure they are even, fold heart in half and place them where you think the eyes would be. Sew to each flat side in one stitch.
 Second, above the eyes on the edge of your heart shape, pinch one of your circle felt shapes and sew one to each flat side.
 Third, Fold your heart in half and place the small heart over the seam, and begin sewing together. Once you reach the top of the heart, insert the end of the long strip and secure.
 Leave about an inch open to add cotton balls inside, and insert a couple pebbles in the bottom so that it sits upright.
 When it is completely stuffed, finish stitching to close and secure with a knot.
 This little mouse is now ready to hold down stacks of important papers!