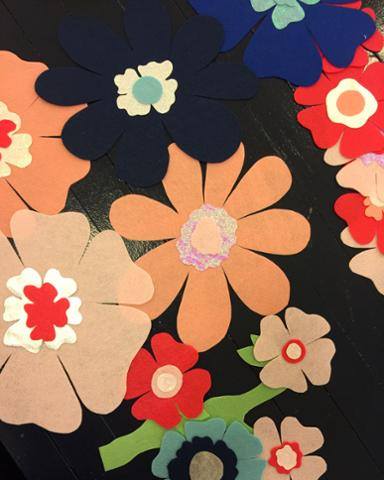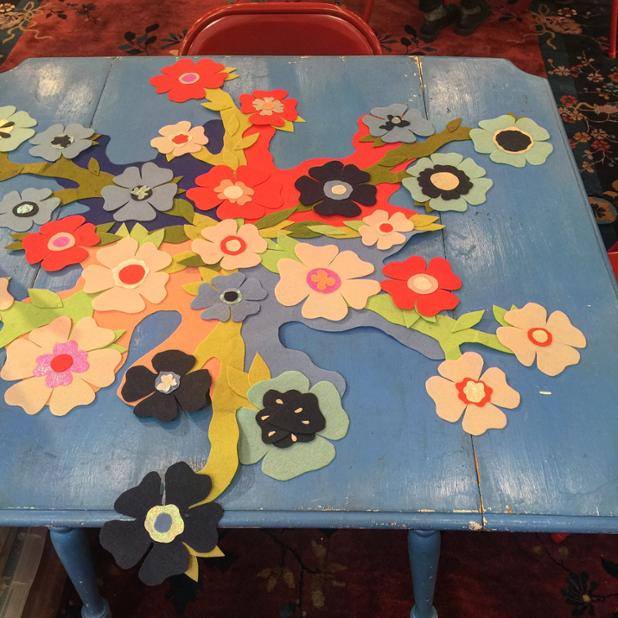 It's warming up & spring is in bloom. Lillian at eeBoo created this fun Spring Floral Wall Art! This is a great way to re-purpose those pop-stick snowflakes we made in December!
Note, If you are starting off from scratch, you will just need to grab some pop sticks, hot glue, and a long piece of ribbon. Glue your pop sticks together in the shape of a starburst to make the frame to hang your felt floral pieces on. Tie the ribbon around the middle connector and it is ready to hang!
 What you will need:
-Felt sheets in bright colors and varying shades of green
-Scissors
-Glue Stick or Hot Glue Gun
Directions:
Start with your bright floral colored sheets and cut out as many medium and small circles as you can fit per sheet. Mix it up as the varying sizes look great together!
Once you have cut out all the circles you can make, take each circle and cut 4-6 notches around the edges for your petals.
After all the notches are cut into the circles, it is time to shape your petals. The shape Lillian used was the top of a heart, but you can use any petal top shape that you would like.
Rotate each circle until all the petals are shaped the way you would like them. You will find that some of the small circles fit nicely as centers for the larger ones, you can match them up and if you need any more centers, use your scraps to make more.
Take your green felt sheets and cut in 4 inch strips. Then take each strip and cut out rows of ragged cat eye shapes. Leaves are just as unique as flowers so the more ragged or differently shaped the better!
Once all the flowers and leaves are cut out, organize so you can put them on the pop stick frame.
Use your glue stick or hot glue gun to adhere the flowers on first. I started with covering the places that the pop sticks connect to give each flower a bit of space. Once you have added all the flowers you would like, then go in and add the leaves in the blank spots. Mix up the colors and sizes so that it feels more alive.
Once everything is glued on, give it a once over for loose strings or felt that may need extra glue. Let your hanging dry for a bit, to make sure nothing falls off if you have used a glue stick.
Once dry, you are ready to hang to give your space a bit of spring cheer!