I'm Madeleine, a former employee and fan of eeBoo. I've always been a fan of grand gestures with a dramatic flair, which is why I decided that my family should meet my boyfriend's family in a mansion that can be only be described as an evil villain's lair. Sure, they could have met in Kansas City, where they both live, but what is the fun in that? That is how it came to pass that we spent a week in a four-story Airbnb mansion in Colorado. What we didn't expect was the daily snow that comes with staying on top of a mountain in late April. Thank goodness I brought the eeBoo Below The Surface 1008 piece puzzle!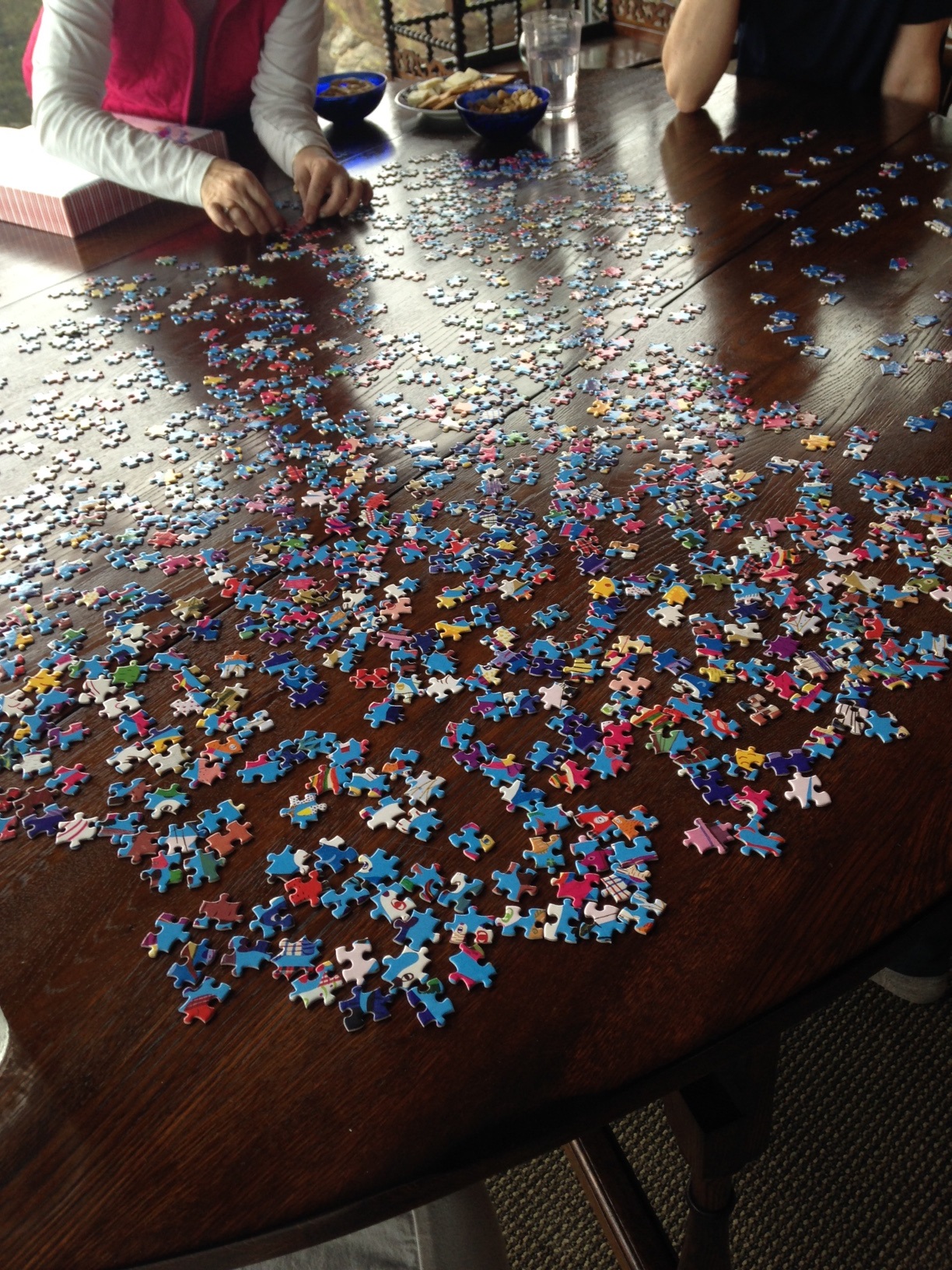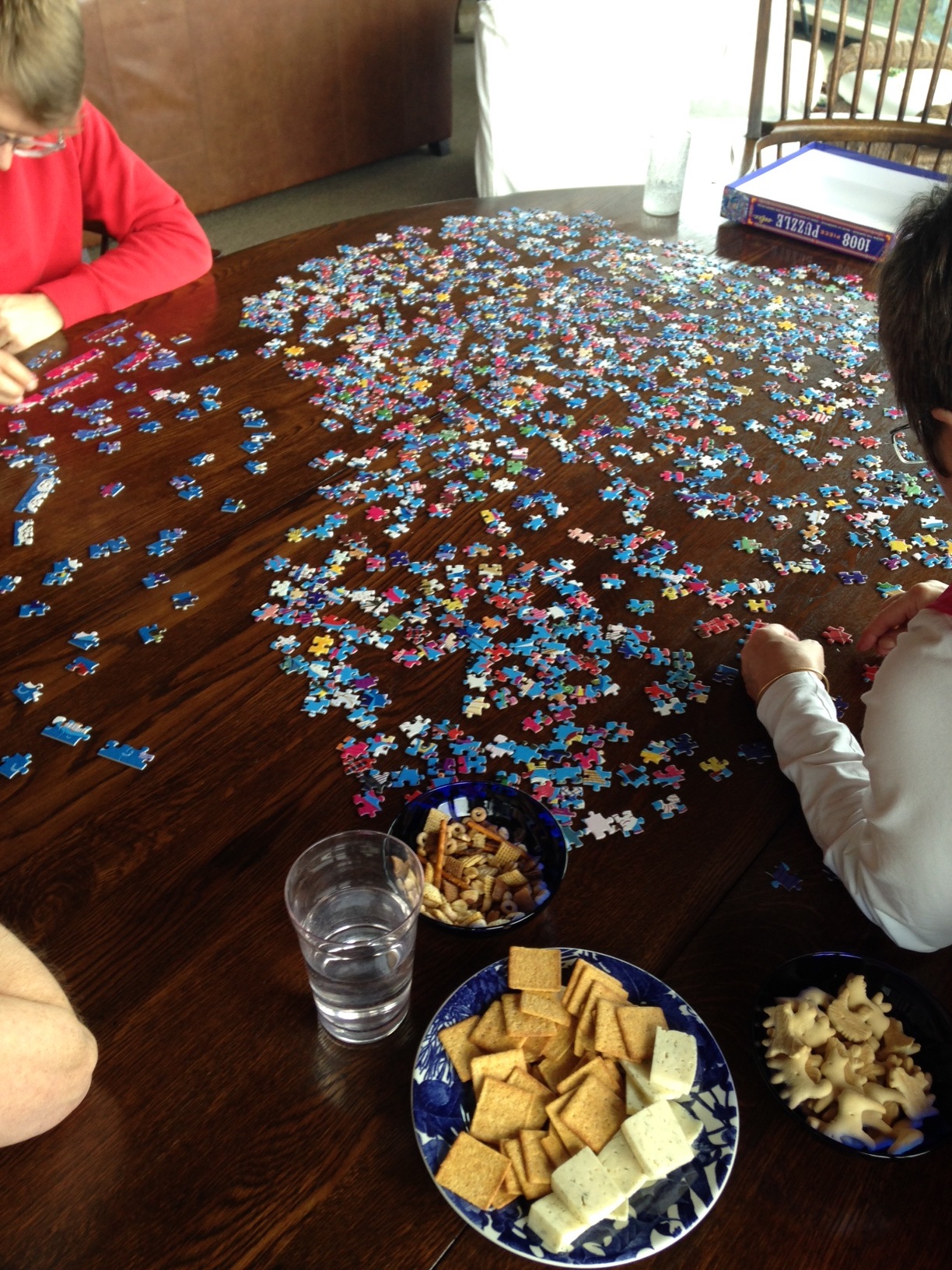 We cracked open the box and sat at the table near the cozy fire to start flipping all of the pieces right side up. What I love about this puzzle is that everyone can work on it at once from all sides and angles. Monika Forsberg's art is orbicular around a central starfish that acts as the puzzle's Northern Star. The first day we didn't get very far. We put together some of the edges and started grouping together the schools of fish. I named myself the Boat Captain and started collecting the pieces for all the boats. I hoping the nickname Boat Captain will stick, so please continue to call me that.
Day two: we got all of the edges together, then we really started cooking with oil. Pieces were flying left and right. The box was handed around, so that people could look at the the artwork we needed to put together. We worked as a team on the coral. I placed the final ducks and swans around the edges. As a team, we dove into the schools of fish deep below the surface.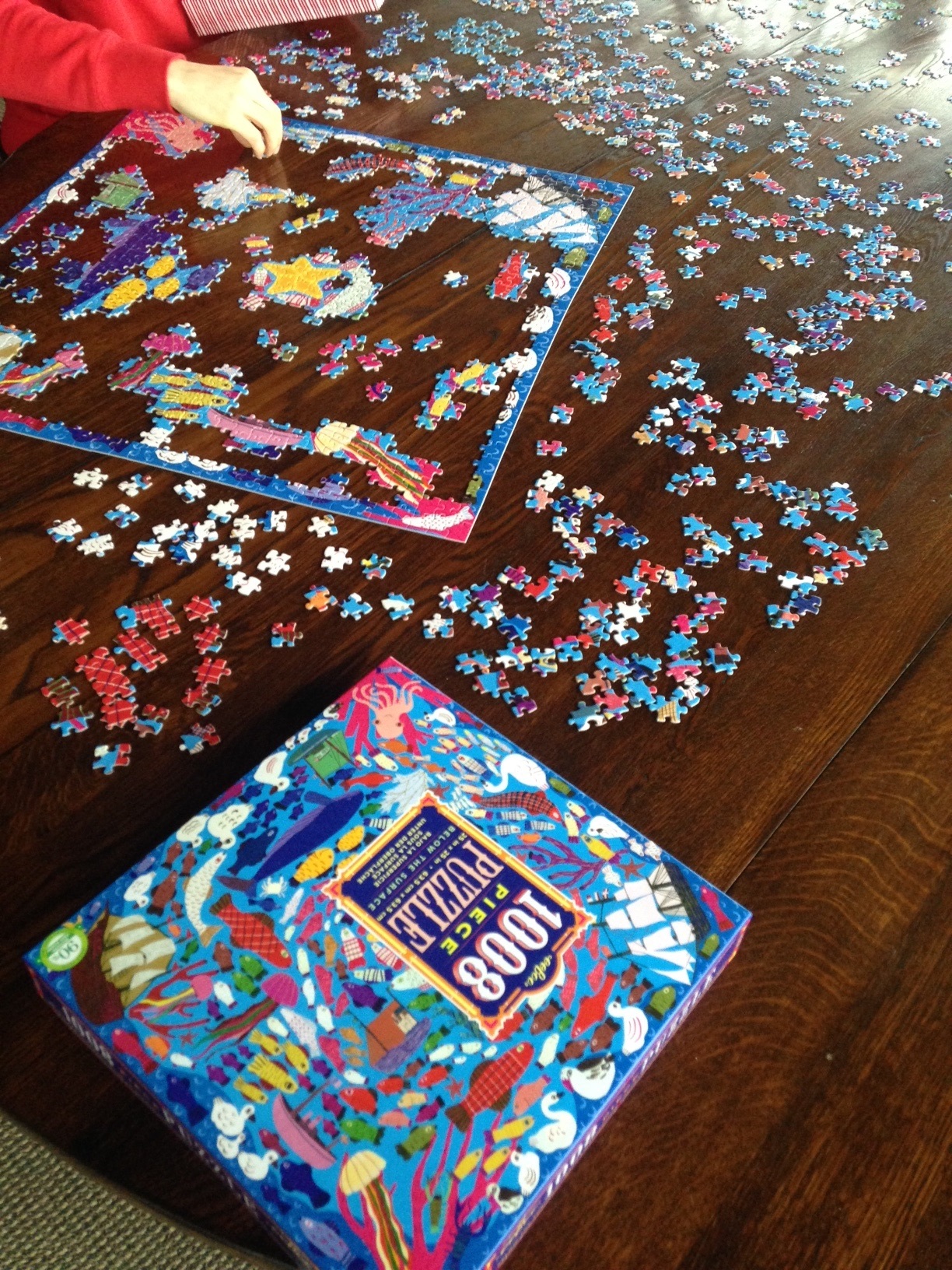 Day three: our spirits were higher than ever. We knew we would complete the puzzle that day. This puzzle is challenging, because there are very similar schools of fish and birds on different sides of the puzzle. You may think that you found a piece that goes with the section you are working on, only to discover that it goes on the opposite side. I may be a mere Boat Captain, but I would say this is the hardest 1008 piece puzzle that I've ever put together (and the only 1008 piece puzzle). I'd recommend the Below the Surface puzzle for older kids and adults to work together on. Thanks eeBoo, for helping our families come together. We had a blast below the surface!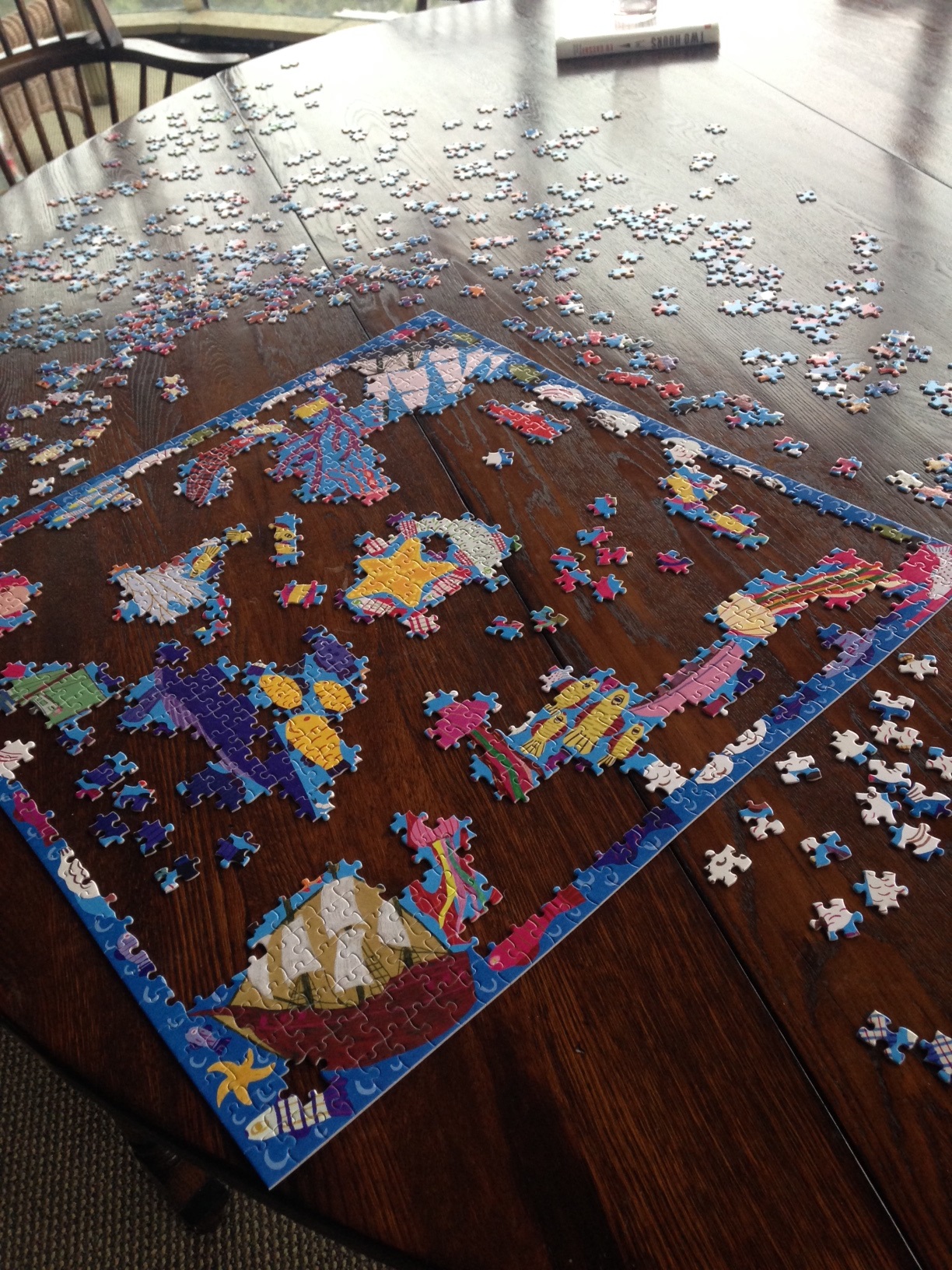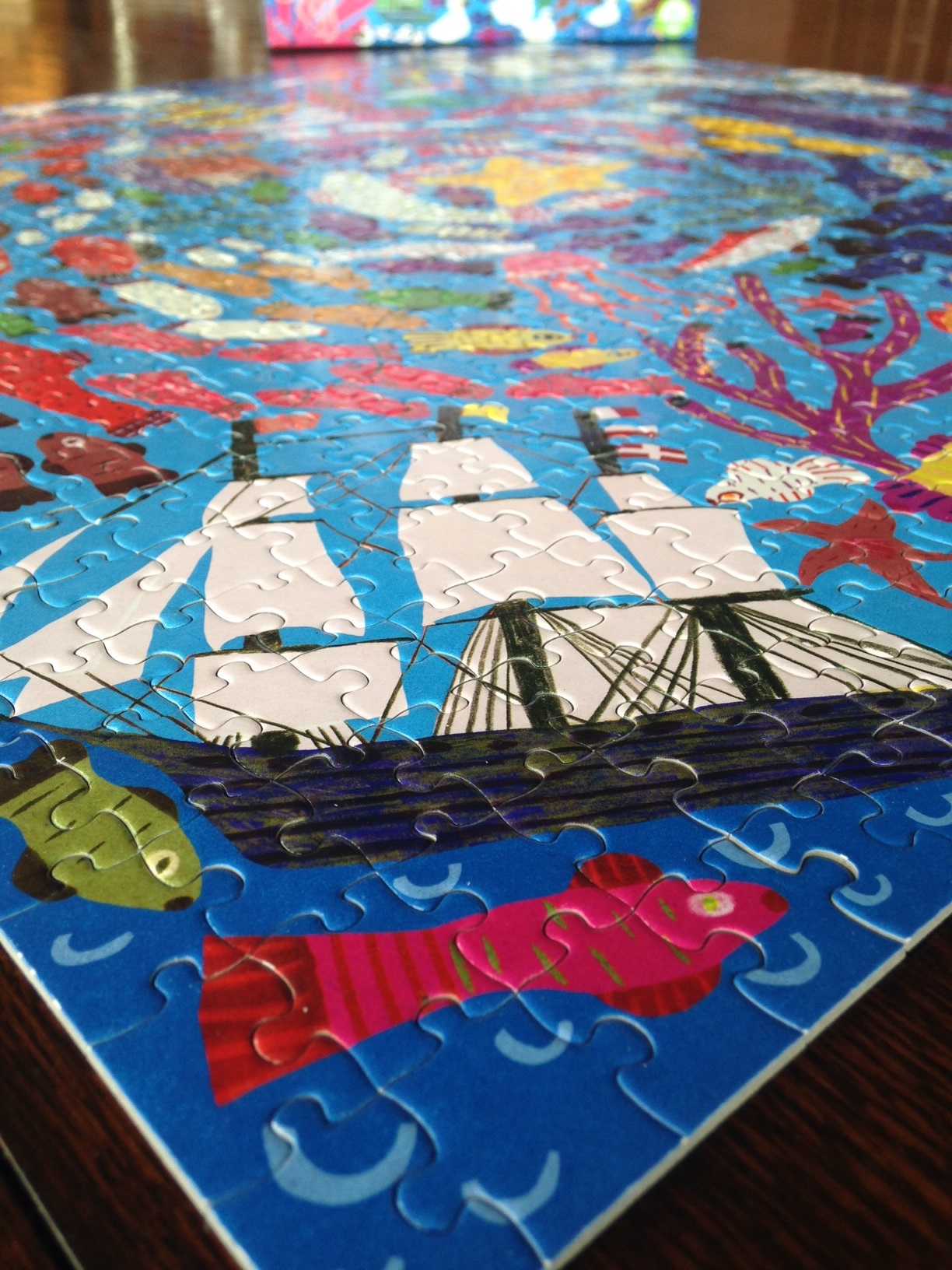 Images & review for eeBoo by Madeleine Burkart.