Canadian Family Magazine featured eeBoo's new Juggling Balls this month! This classic activity uses not only your body, but your brain, too. Studies have shown that Juggling helps to awaken the part of the your brain that deal with Math. The fun colors, embroidered designs and smooth non-slip velvet covering will entice kids and adults alike. eeBoo produces 6 different color choices: yellow (pictured below), green, purple, pink, orange… and the top seller, blue!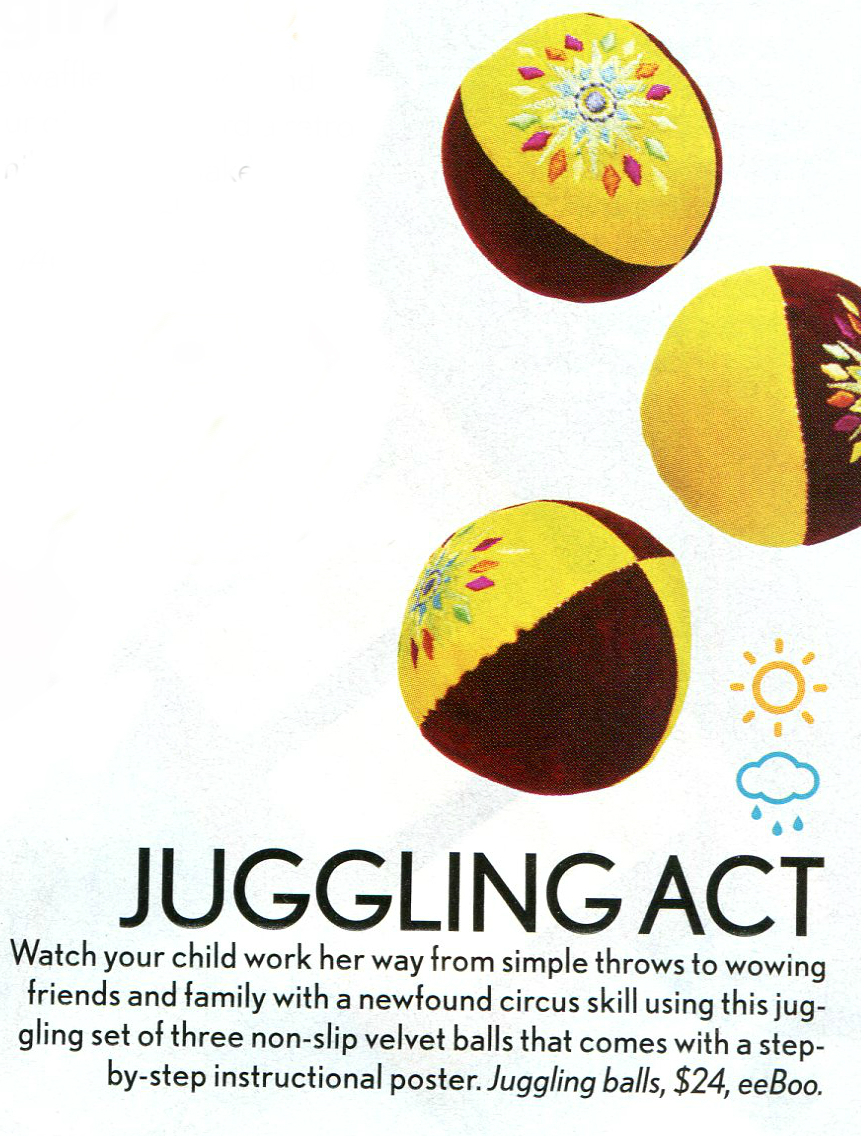 Never in the history of performance have juggling balls been so eye-catchingly
pretty! Novice and master jugglers alike will delight in eeBoo's soft and
perfectly weighted juggling balls – inspiring enthusiasts of this classic hobby
to reach new heights! Each set of 3 balls is beautifully designed with brightly
colored velvet and festive, stitched designs. The set includes a colorful
instructional poster featuring simple step-by-step instructions guiding young
jugglers as they dazzle friends and family. Diameter of ball is approximately 2.5".
eeBoo's Juggling Ball set include a beautifully illustrated instructional poster.
Did you know?
Juggling builds more than hand/eye coordination. Juggling and mathematical
thinking are intricately linked! Moreover, scientists have found that juggling is
associated with an increase in white and gray matter in the brain! Perhaps this
explains why juggling has become a favorite activity of computer programmers,
academics and engineers, and is a popular hobby at brainy schools like Caltech
and Cornell!