Time to Play Magazine has made Community the star of this video! You can watch it here.
Community encourages children to consider what makes a society strong. Kids start out with a Home Tile, and each choose Location Tiles that represent locations they like within their own Community. This gives children the chance to consider integral places and aspects within their community. A child who loves art may pick the Museum Tile, or a child whose parent is a fire fighter may pick the Fire Station and Police Department Tile. Once all of the locations are in their place, kids use Road Tiles to connect every Location back to Home. Winning results are not guaranteed, so children must give careful thought and planning to how they lay their Tiles. By doing so, children develop foresight and engage their brains! An added benefit, is that Community can be played as a solo activity or as a group!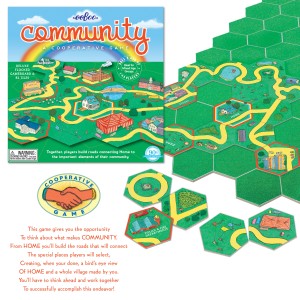 While Community fits the bill as being a fun and entertaining activity for children, it also serves a much greater purpose. While most games on the market are designed to foster a feeling of competition against players, Community is designed to inspire collective effort and camaraderie. Also, it helps to impart a very valuable lesson many parents strive to help their children understand: the importance of compromise. Since each play takes turns and must use their pieces to reach the end goal together, the best results come forth when players work together. On a practical level, Community provides children with the opportunity to develop their visual-spatial skills as they choose the best Road Tile to use in each space.
Community is for ages 5+, and retails for $19.99.