"Our Respect the Earth flash cards, Gathering a Garden board game and numerous Life on Earth themed products are meant to inspire love and appreciation for the natural world." – Rosie at eeBoo
eeBoo's I Never Forget an Animal Face Matching Game is a perfect example of one of eeBoo's eco-friendly products that encourage an appreciation for nature and wildlife. The material used is 90% recycled greyboard, and artist Saxton Freyman's playful illustrations help children develop a love of animals. By seeing an animal depicted in clothing, it may help make animals more relatable for children and foster the development for compassion towards animals!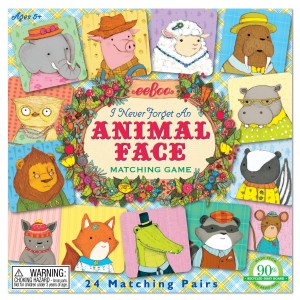 Easily recognizable animal faces are fun to find as players turn over pairs of tiles, searching for a matching pair. Children and adults alike enjoy this game of memory and observation skills. Concentration or Memory games are played by facing all pieces face down in a grid and then lifting up a pair at a time while trying to find a match. Fun to play, this game heightens focus and attention to detail while enhancing spatial memory. eeBoo has commissioned beautiful artwork on a variety of themes for a unique series of this classic game. Each set has 48 thick durable tiles, 24 pairs to match, 2.25" x 2.25". They are great played in multi-generational groups, and no reading is required.
I Never Forget an Animal Face is for children 5+, and retails for $15.99