Design Sponge has chosen eeBoo's Classic Wall Cards as one of their back-to-school favorites! eeBoo's Wall Cards are a decorative addition to a child's bedroom with an educational advantage. Each card is printed on heavy card stock, and features the beautiful artwork of acclaimed children's book illustrators. The 8″ x 10″ Wall Cards are tied with a grosgrain ribbon bow; a great detail to the perfect gift. eeBoo's Wall Cards are available in 6 styles.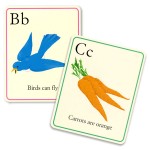 Design Sponge raved about the Read-to-Me Wall Cards, disclosing that "eeboo's Alphabet Wall Cards look fabulous strung up with some twine or framed on the wall."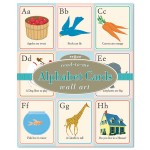 The Alphabet Wall Cards contain simple sentences that offer a wonderful beginning point for communicating with a baby. As children age the simple sentences can be harnessed as tools while children learn to read. Adults will appreciate the simple and classic beauty of the artwork on each Wall Card, and children will enjoy the whimsical drawings provided by talented illustrators of children's books.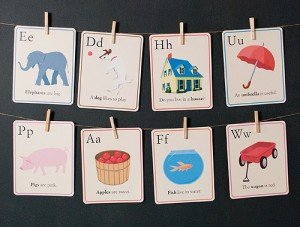 eeBoo produces 5 styles of Alphabet Wall Cards, and one style of Counting Wall Cards. The additional style themes available are All Around the Land Alphabet (a best seller!), Hardware Alphabet, Fairies in the Garden Alphabet, Animal Parade Alphabet, and Counting Birds. Alphabet Wall Cards include 25 cards and retail for $25.00, and Counting Wall Cards include 10 cards and retail for $20.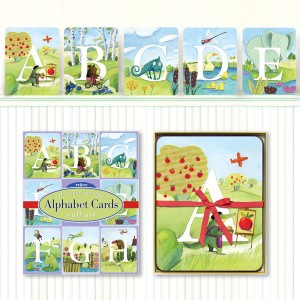 If you like eeBoo's Wall Cards, you may also like eeBoo's other decorative items such as the Floating Birds.