Craft Focus Magazine loves eeBoo's craft line! Check out the review below for eeBoo's Waste-Not Kits and Pipe Cleaners!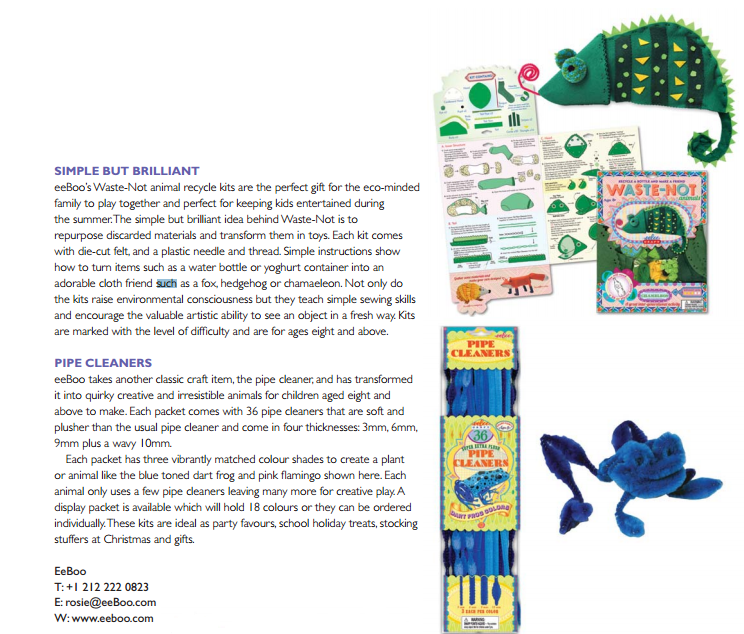 eeBoo's Waste-Not Animal Recycle Kits are the perfect gift for the eco-minded family that plays together. The simple, brilliant idea behind Waste-Not is to repurpose discarded materials by transforming them into toys. Each kit comes with die-cut felt, a plastic needle and thread. Simple instructions show how to turn such items as a water bottle or yogurt container into an adorable cloth friend, such as a fox, hedgehog or Chameleon. Not only do the kits raise environmental consciousness, but they teach simple sewing skills and encourage the valuable, artistic ability to see an object in a fresh way. Recycle a container and make a friend! What's not to like? Kits are marked with level of difficulty.
eeBoo's  line of super plush Pipe Cleaners come in 18 vibrant color assortments. Each 36 pipe cleaner pack contains 3 different colors and 4 different thicknesses per pack. Instructions for a different project idea are printed on the back of each package for inspiration, but children are also encouraged to use their imagination to create wonderful, one-of- a- kind crafts. Twist, curl or bend them into shape. The possibilities are endless!