The blog Road Trips for Families has reviewed a few of eeBoo's travel games. The travel games selected for the review were eeBoo's United States Bingo, Travel Bingo, and Make Me a Story!
The United States Bingo plays the double purpose of entertainment and education. The game divides the US into 12 regions, which players take as cards. The tiles used each represent an industry, such as technology, mining, and tourism. The game is played like classic bingo, as the first person to place six tiles on their board wins. The added bonus is that kids learn facts about the US throughout the game.  Despite the large amount of information that can be absorbed while playing, the game is recommended for ages five and up. Road Trips for Families reports, "even our kindergartner has assumed the role of official tile reader with this one." The US Bingo game retails for $15.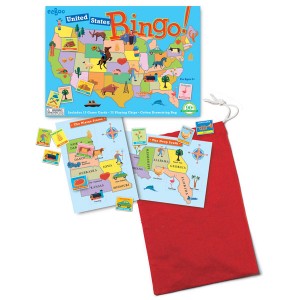 Travel Bingo is a more interactive alternative to playing on the go. The game requires players to spot common sightings on roads and highways, like gas-stations, traffic signals, birds on a wire, and cows. A perk about the 5.25″ x 5.25″ box is that it's small enough to be stored in a glove compartment. The Travel Bingo game retails for $10.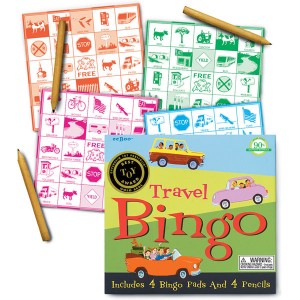 Make Me a Story is perfect for travel or a quiet night at home. The game is part of our literacy series, also including Tell Me a Story and Write Me a Story. Each game is intended to familiarize children with the concept of plot, theme, and of course — to get creativity flowing! The Make Me a Story boards come in 4 themes, and each include a magnetic story board (perfect for playing on the plane!) and 32 magnets. Players are free to create a story however they want, and use the pieces to help describe what's happening. Make Me a Story retails for $14.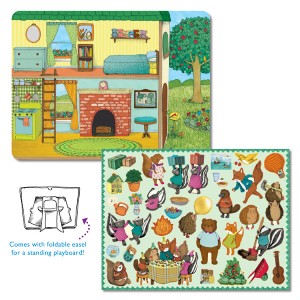 In addition to the games reviewed in Road Trips for Families, eeBoo makes a number of other games geared for fun-on-the-run. eeBoo redesigned 4 of the popular matching games to be travel-size — including the best-seller I Never Forget a Face game, which has won the Oppenheim Best Toy Platinum Award. If you're looking for something other than a matching game, eeBoo also produces a travel-size domino game. Each of the travel games come in convenient 4″x4″ cardboard boxes with sliding trays that make storage all more easy in a hurry.  The Travel Games each retail for $10.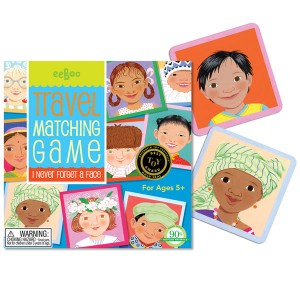 You can read a copy of the review here.