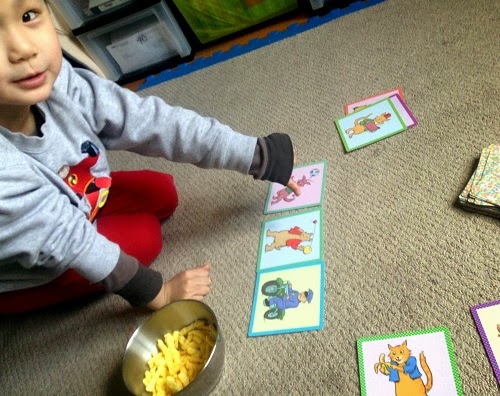 The Toys are Tools Blog is one of our favorites when it comes kid-testing and thoughtful reviews. It is all about the educational and skill building without sacrificing fun. They just reviewed our game Categories. Categories is full of friendly faces doing all sorts of funny things, playing with balls, wearing hats, eating snacks! The objective is to find sets of three that one trait in common, for example, they are all eating.
The expert  Nicole Kolenda, M.S., CCC-SLP, P.C., Speech & Language Pathologist and Jenn both took a look at this game. I think they nailed it when they write,  "For the eeBoo cards, I think kids need the time to observe and really look at everything….you can't just LOOK, you have to THINK about what you are looking at."
Head over to the Toys are Tools blog QUICK and you can enter to win 2 free games.
Purchase Categories at your local toy store or at the www.eeBoo.com