Blogger

Toys are Tools

loves eeBoo's Scratch Papers! This exciting new product quickly jumped onto eeBoo's Best Sellers list, mere weeks after coming out. It's no wonder why, when each paper provides a new and beautiful dimension to drawing.
eeBoo produces 3 styles of Scratch Papers: Foil, Pattern, and Fluorescent. In each style, 20 8×8 sheets and a bamboo pencil are provided. 
 You can read the full review 
here
.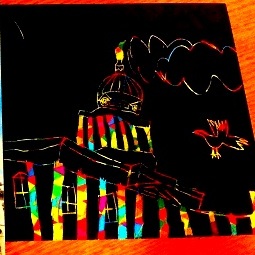 "It is also great for little kids who are too tiny for figurative drawing," Petra commented.  "It's just such a magical look that you can achieve… If you were to teach about lines and shapes which are sort of basic art education units to teach," she said, "I think it would be nice for that."
A new approach to drawing: When you make your mark,
You're actually scratching brilliant color from the dark!
From beneath the inky blackness, flashy foil will shine
To add light and sparkle every time you scratch a line!