eeBoo made the cut twice in Washington Family Magazine's Best of Award-Winning and Educational Toys & Games feature. eeBoo's Classic and Best Selling Tell Me a Story Cards, along with the Sketchbooks and Watercolor Pencils are the two products in the spotlight for this December's issue.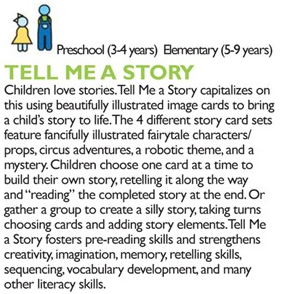 eeBoo's Tell Me a Story includes a set of 36 cards, featuring beautifully illustrated and intriguing images. The image cards provide the components for children and adults to make up their own stories. Thematically linked but open-ended images spur the imagination and become the catalyst for creativity. Instructions are included for a variety of games and activities. Tell Me a Story is a Winner of the Oppenheim Best Toy Award, and a best seller!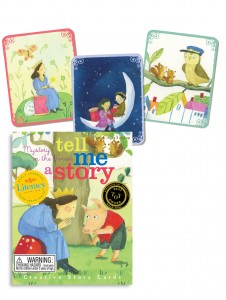 eeBoo produces 5 styles of Tell Me a Story cards; Mystery in the Forest, Animal Village, Fairytale Mix-Up, Circus Animals, and Little Robot's Mission. Each card is 3.75" x 4.75", and slides into a tray box for easy storage. Tell Me a Story retails for $9.99, and is for ages 3+.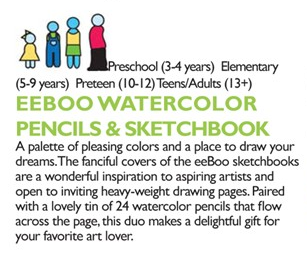 eeBoo's Watercolor Pencils beautiful cover is illustrated by acclaimed children's book artist, Melissa Sweet. The Walk to the Sea 24 Color Watercolor Pencil set gives children the chance to experiment and explore with colors, and the watercolor effect. The Watercolor Pencils are for ages 3+, and retail for $14.99.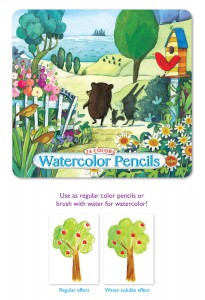 The Watercolor Pencils can be gifted as an inspiring set when given with the matching Walk to the Sea Sketchbook. eeBoo's Sketchbooks are made with 60 spiral bound pages of thick, high-quality paper. The Sketchook is for children 3+, and is sold at retail for $5.99.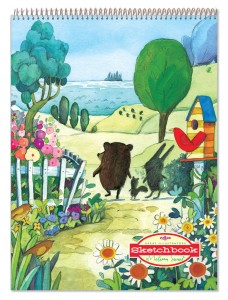 You can read the full review here.