Momma's Bacon has reviewed one of eeBoo's newest activities, About Face! About Face includes 160 Object Images arranged to look like hair, eyes, a nose, or a mouth. When pieced together, children find a million possibilities for creating faces. Objects range from to paper clips and light bulbs to  leaves and sea shells. All of the objects were found on New York City's streets or the sea shore and photographed by acclaimed children's book illustrator Saxton Freymann. Instructions are included for a number of play variations, such as using "only objects with hard surfaces," or "only objects that are red."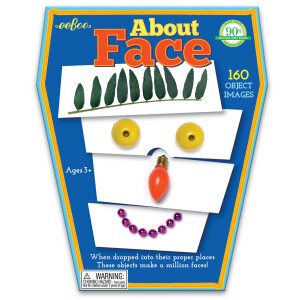 About Face awakens children's natural sense of design, and inspires "out of the box" visual thinking. It is the recipient of the Oppenheim Best Toy Award — Gold Seal, and the Oppenhiem Snap Award! Momma's Bacon describes About Face as "a creative child's dream." Not only does About Face inspire an awareness of creative design, but it also sharpens facial recognition skills as children observe the differences in mood as they swap one object piece for another.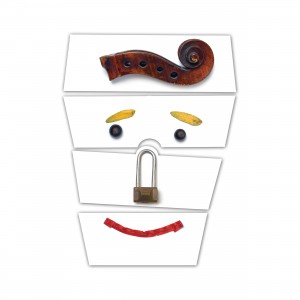 About Face is for ages 3+ and retails at $15.00. An added bonus is that About Face is made out of 90% recycled material! If you like About Face, you might also like eeBoo's Art Supplies, Crafts, and Felt Mosaic activity.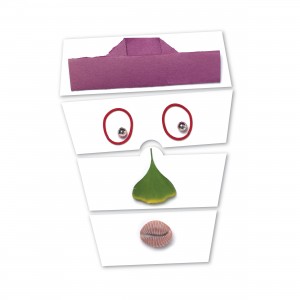 You can read Momma's Bacon's review of About Face here.