Lifestyle blog Stickers and Donuts has just posted an interview with eeBoo owner and founder Mia Galison! In the interview, Mia discusses her design process, eeBoo's famous turn-of-the-century-ballroom studio, her sources of inspiration and why she's like the old woman in the shoe! 
 Authored by a collection of talented young writers, Stickers and Donuts takes a special interest in creative, fun and beautiful "things that other people make." It's a charming, well-written and humorous site with a growing readership, and we're delighted to be featured!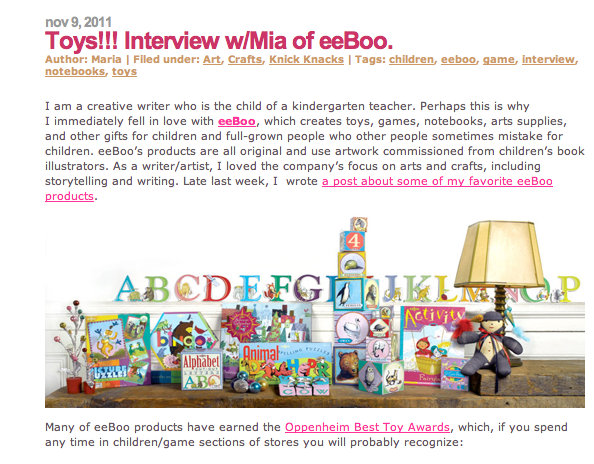 The interview follows a Sticker and Donuts review of a number of eeBoo products posted November 4th, entitled "What I Love @ eeBoo."  We particularly like contributor Maria's comment about our Fairytale Spinner Game: " Yesss, games that tell stories! Maybe this is mostly for kids but I like it anyway."
At eeBoo, we believe that you're never too old to use your imagination!