TDmonthly Magazine picked the best games that make excellent Holiday gifts and eeBoo's Community game is among them!  Community is a cooperative game that can be played collectively or solitarily. Regardless of the number of players, Community provides children with the chance to directly connect with the concept of community during playtime. TDmonthly reports that Community inspires children to "think about what truly makes a home, a theme that is very appropriate during the winter holidays."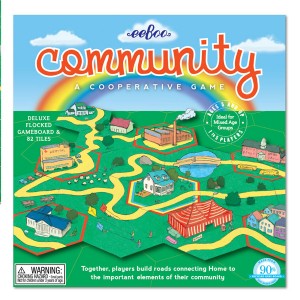 The object of Community is to connect Home and Location Tiles as efficiently as possible using a set of Road Tiles. Each Location Tile represents an important staple in communities, such as the School, Museum, Library, Park, Spiritual Center, and Stores. Children take turns placing their tiles, but since successfully connecting all locations isn't guaranteed without careful planning, the best results come from when all players work together as a team.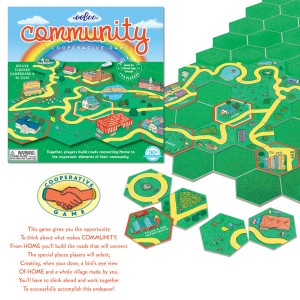 Community includes 82 flocked tiles which are all illustrated by children's book illustrator Saxton Freyman. The tiles are placed on a soft, green flocked board which prevents sliding and folds out to a 18″ x 18″ board. The game is for players 5 and up, and retails for $20.00.
Community is one of four Cooperative Games designed by eeBoo.
Stay tuned for the Oppenheim Award Announcement in September!