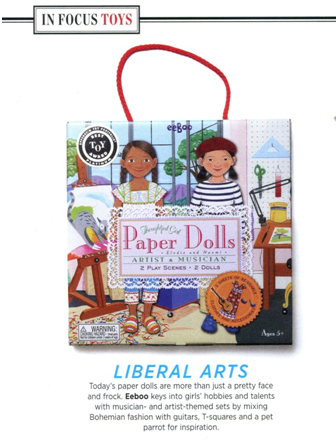 "Today's paper dolls are more than just a pretty face and frock. EeBoo keys into girls hobbies and talents with musician- and artist-themed sets by mixing Bohemian fashion with guitars, T-squares and a pet parrot for inspiration." – Earnshaws Magazine, February '13 issue
eeBoo's Paper Dolls provide children with a new element of traditional Paper Doll playtime. While conventional Paper Dolls bestow only the opportunity to change the dolls wardrobe, eeBoo encourages kids to imagine much more, such as the important qualities that make a Thoughtful Girl.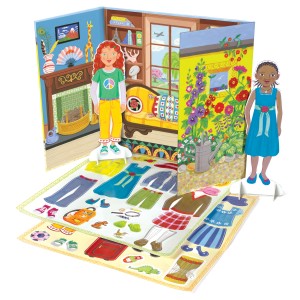 With eeBoo's Paper Dolls, children can expand their interest and imagination with Baker & Painter, Musician & Artist, Poet & Astronomer, Explorer & Naturalist, and Great Adventure. These hobbies help children's sense of self flourish beyond the traditional one-dimensional "dress up" activities of Paper Dolls, and allow them to consider the whole self.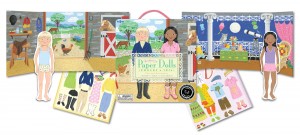 eeBoo's Paper Dolls include 2 Dolls made of thick, high-quality cardstock, 2 sided stand-up scene, 2 sheets of re-usable electrostatic vinyl clothes and accessories, and a convenient box with a handle to slip the pieces back into for fun on the run. This activity is for children ages 5+.